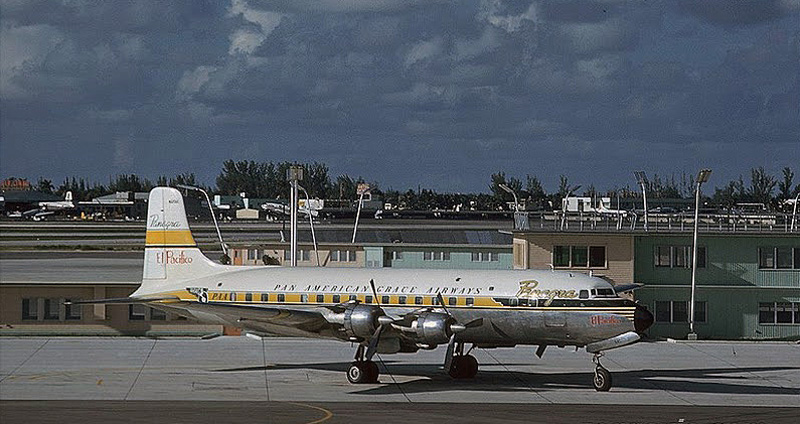 by Jeff Jarvis
My parents met and were married in the Canal Zone during the early 1940s. My brother Jan was born in the Republic of Panama in 1948, but I was born in Miami in August of 1952. My parents then returned to the Canal Zone where I grew up for the next twenty one years.
My dad had a commercial pilot license and an A&E license and had worked briefly for Eastern Airlines as a mechanic in Miami before they returned to the Canal Zone. He owned several single-engine light airplanes during the 1950s. He also had a shop at Paitilla Airport where he kept the airplanes in Panama City, and as a little boy I had already caught the flying bug. While other boys wanted to be baseball players or maybe firemen or policemen, I always knew that flying was what fascinated me, and to a lesser extent, my older brother. I loved the Douglas and Lockheed airliners and would never turn down a trip to Tocumen Airport where I could see them. I also loved the smell of the clouds of smoke when their engines were started.
When my dad would go out to Paitilla Airport on weekends to work in his shop I always went with him, but my brother rarely did. Once in a while we would go for a short flight in his last airplane, a Piper PA-20 Pacer that he had built using a PA-22 airframe that had been cracked up in North Carolina and subsequently bought through Trade-A-Plane. My prized Christmas present in 1959 had been an airline pilot uniform that had come from the Sears Roebuck catalog. I had the bug badly!
We used to come to the States every couple of years on vacation during the summer and my parents wanted our trips to be educational in nature as well as fun. Vacations were always carefully planned and were always very memorable. For our vacation in 1960 they had planned that we would fly to Miami in early June on a new jet airliner and pick up our new Ford Falcon station wagon at JD Ball Ford near the Miami Airport. We would then drive all summer, seeing Yellowstone and Glacier National Parks, as well as drive through the prairie provinces of Canada to Sault Ste Marie and across the new Mackinac Bridge. We would wind up in New York where the car would be shipped to Cristobal, Canal Zone on the SS Cristobal of the Panama Line while we returned on the SS Esparta of the United Fruit Company. It promised to be a very exciting vacation, but in ways I could never have foreseen!
About two weeks before leaving we found out that we would not be flying on a new jet after all because it had been oversold, so we would be accommodated on a propeller driven airplane. That was fine with me! I had never even seen a jet airliner before anyway, and I was certain that they couldn't be any nicer than a DC-6B.
The day we were to leave found us out at Tocumen several hours before our 4:00PM departure and, as always, my brother and I were up on the observation deck.  We watched our Panagra "El Pacifico" DC-6B land, reverse the props, and taxi in to the terminal with engines one and four being shutdown as it approached the ramp. Nowhere would you ever see a prettier bird than the green and yellow of a Panagra DC-6 or DC-7 with the red/orange "El Pacifico" or "El Interamericano" written on the nose and tail! Whoever developed the paint schemes that adorned Panagra airplanes through the years was a genius to this little boy!
We watched several other airliners come and go, and finally my dad came and got us because it was almost boarding time. Finally we started boarding and I remember that as you approached the doorway on the stairs you would feel air conditioning pouring out and smell that wonderful distinctive smell that only propeller driven airliners had! We sat on the left side behind the wing leading edge where we had a lot of engine noise, but not too much. I remember the runup with all four engines being run up together for the prop check, then symmetrically one and four and two and three for the mag check, and that feel of the airplane tugging at the brakes. As soon as the runup was completed we started forward and as we were turning onto the runway I noticed the cowl flaps were already closing down and they were pushing up the power for takeoff.
About an hour after takeoff we were level in cruise and I was thirsty, so I went back to the galley to ask for a drink of water. The stewardess was an American as I recall, but she talked me out of the water and into a glass of milk instead. I was charmed by how nice she was! Soon they started preparations for serving dinner, but I don't remember what we were served, only that it was served on trays that were placed on pillows on your lap. I also remember the little packs of four cigarettes that were put on all of the trays in those days, and it seemed that more than half of the adults were smokers back then, though my parents were not.
As always after dinner, there is a line for the lavatories. On a DC-6B the lavatories were in between the arc of the propellers and separated the forward and main cabins. My dad was waiting for one to become free after the crowd had thinned when the captain came back to use the lav. As they were waiting they started talking and at some point my dad mentioned to him that he had two boys who were real excited about airplanes and just thrilled to be riding on one. The captain told him that he should bring us up to the cockpit for a visit just as soon as he was done in the lav! When my dad came back and told us that, wowee, I was excited beyond belief! My brother was reading a book or something and did not go, but I certainly did!
When they opened the cockpit door I know I was a little shy about going in to what I considered to be a somewhat sacred, mysterious place. When the flight engineer got up and folded his seat up and came back so I could go up further I asked him if he was the flight engineer (my dad had told me about the crew makeup before) and that impressed them that I even knew the term, I guess. Anyway, the captain told me to come on up and look at everything, but don't touch without asking first. Of course it was all so overwhelming that I didn't know what to ask! Then he really shocked me when he asked me if I'd like to try flying it and had me come up and sit in his lap.
He disconnected the autopilot (I presume) and had me bank slightly to the left and to the right and told me that I was flying it! I'm sure the first officer was actually right on the controls with me so I couldn't really hurt anything by an abrupt move, but I wouldn't have known. I was on cloud nine!!!! I had never even touched the controls in my dad's airplane, and here I was in the most beautiful airliner there was. If there had ever been anything to make me doubt that I wanted to become a pilot, it was gone forever now. After a minute or two it was over and we thanked them and went back to the cabin. When we arrived in Miami it was dark and it took a long time to clear formalities because a jet arrived just ahead of us, and I think it was close to midnight before we got to bed. I was one lucky kid and I knew it! The next day we got our Falcon and started our drive north from Miami on US27.
That crew has my undying thanks for what they did that day, and I know that they were sticking their collective necks out, although it didn't occur to me until several years later. By what they did my mind was made up for sure about becoming a pilot as my life's work, although I'm sure they could not have known it. When I was nine I had to start wearing glasses and was told by many well meaning people to forget about becoming a pilot, but I didn't listen. If my parents had tried to dissuade me, I probably would have given up, but they were always supportive. I got contact lenses at age thirteen, and I went on to college at Embry-Riddle, got all of my licenses, flight instructed for a year and a half, and then checked out as a first officer on the DC-6 and flew them for five years, amassing more than 3,000 hours in them during that time. I still think they are beautiful to this day, even after flying as a captain on the DC-8, 727, and 747.
As the years passed, my memories have been clouded with the passage of time, but some things are just too significant to forget, like a little boy's memorable trip on Panagra.